Tanglestorm, aka Cannon is a tinker fairy.
Appearance
Edit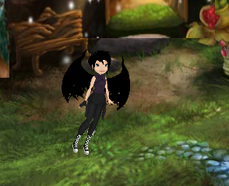 Tanglestorm is Japanese; she has black eyes and pale skin. She has messy hair, wears sticks in it and wears black, white, and occasionally green.
Description
Edit
Tanglestorm is quite polite and friendly. She has flawless grammar, spelling, and punctuation even when English isn't her first language. Her hobbies include reading and programming. She was dubbed as "femme fatale" on the forums. Her names are Cannon, Tangurusutōmu Akui, and Tanglestorm.
Her personality is mysterious.