Emma is a fairy fun to be around, joyful, and loves playing games.
Appearance
Edit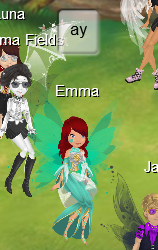 She has red hair, glittery eyes, and wears aqua dresses. Her wings are sharp and dimensional. She curls her hair and wears sandals.
Description
Edit
Emma first arrived in October of 2017. Even though she was new, she easily bonded with the other fairies and sparrowmen. She balances her passion for reading with Fairyabc and loves conversation. Because she gets bored and annoyed easily, she connected with a sparrowman named Michal who makes her happy.
Her personality is approachable, friendly, and upbeat.