Coconut Lightflame is a frost talent fairy.
Appearance
Edit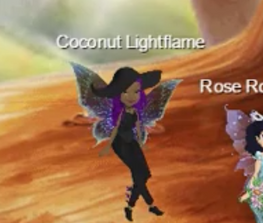 Coconut has big black eyes, brown skin, and colored hair. She wears jean overalls with long hats.
Description
Edit
Coconut had other accounts with different names before she made Coco. She used to mess with people on the original Pixie Hollow, but changed her mind after she was muted. She is very sarcastic and loves to joke around. She also has a sister named Sarah Stargrace. Being the funny girl she is, everyone appreciates her approval.