Anastasia Beautyglow is a sweet frost talent fairy.
Appearance
Edit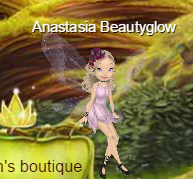 Anastasia B. is pale, blonde, round faced, and blue eyed. She has curly hair without bangs. She wears casual street clothing and a necklace.
Description
Edit
Anastasia Beautyglow is a frost talent fairy who likes Havendish Square. She's open and welcoming with a large circle of friends. Anastasia is known for helping people. She soothed a crying new arrival who had been bullied over her skin color. Anastasia has a good reputation in the Hollow and is loved by many.
Her personality is perky and vibrant.